Friends, colleagues, clients:
I hope you, your families, and your people are healthy.
We find ourselves together in the most significant economic downturn in generations, and our industry is among the most impacted segments of that economy. GiftRocker's role in this crisis is to present opportunities for you to create revenue to help bridge the gap until Government loans are approved and your business is back to some sense of normal.
Here's what we are doing for you during the COVID-19 crisis:
New Sign-ups (FREE through August)
Billing Relief
Gift Card Promotions
Online To-Go Ordering (FREE through August)
Let me know if there is anything else that we could be doing to help.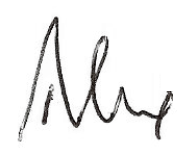 New Sign-ups (FREE through August)
New GiftRocker customers signing up after March 12th will not be billed for April, May and June. At the end of June (and at any time), you can stop using GiftRocker. Read about our Gift Card Solutions or just Sign Up.
Billing Relief
Existing GiftRocker restaurants may have noticed a reduced subscription charge this month. Here is some insight into our thought process in establishing these temporary rates:
Cutting all restaurants down to zero billing would not be sustainable for GiftRocker. We are a small company and as many of you have experienced, gift cards are selling. In support of this increased activity, we did not want to cut costs on infrastructure or support.
Cutting some restaurants down to zero billing based on request would not be fair and consistent. We wanted to provide relief across the board.
We found middle ground applying billing discounts after evaluating March revenue. Subscriptions were discounted based off of usage from allowing us to provide relief while meeting lights-on expenses. Some of the discounts to high volume restaurants will seem symbolic. We want you to know we are in this together.
Let us know if you would like to discuss your restaurant's billing in more detail.
Gift Card Promotions
Billing discounts will save restaurants tens of dollars. Adding and marketing gift card promotions can add hundreds, thousands or tens of thousands of dollars of revenue when needed it most.
GiftRocker supports % off, % add and tiered promotions. We also provide the ability to capture donations similar to GoFundMe but allowing you to be more creative in how you approach your customers.
Here are a few examples that seem to be working: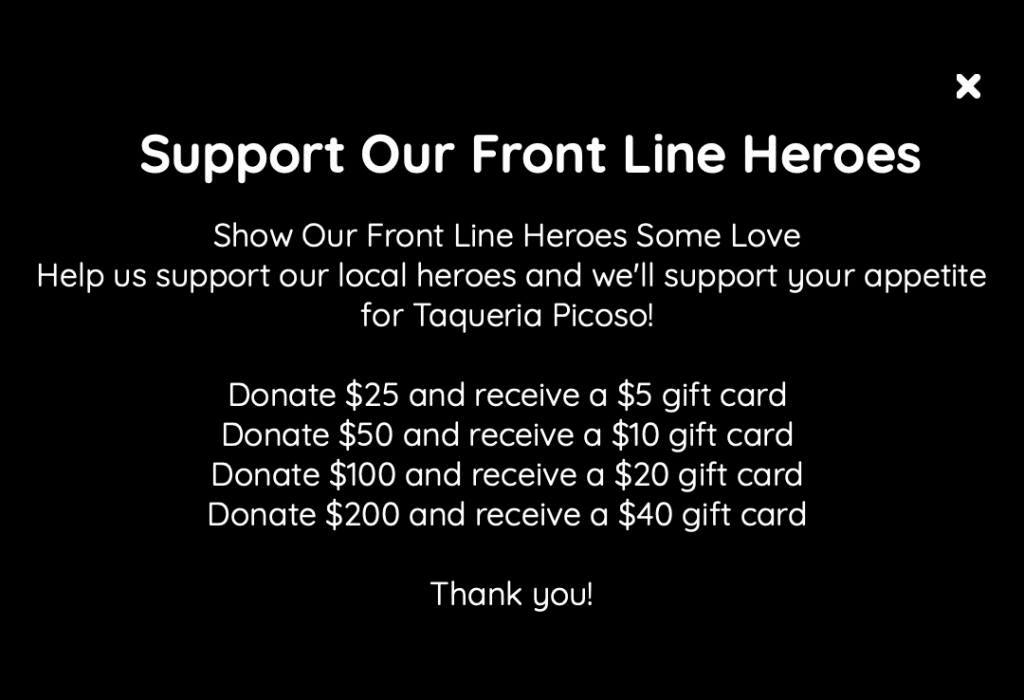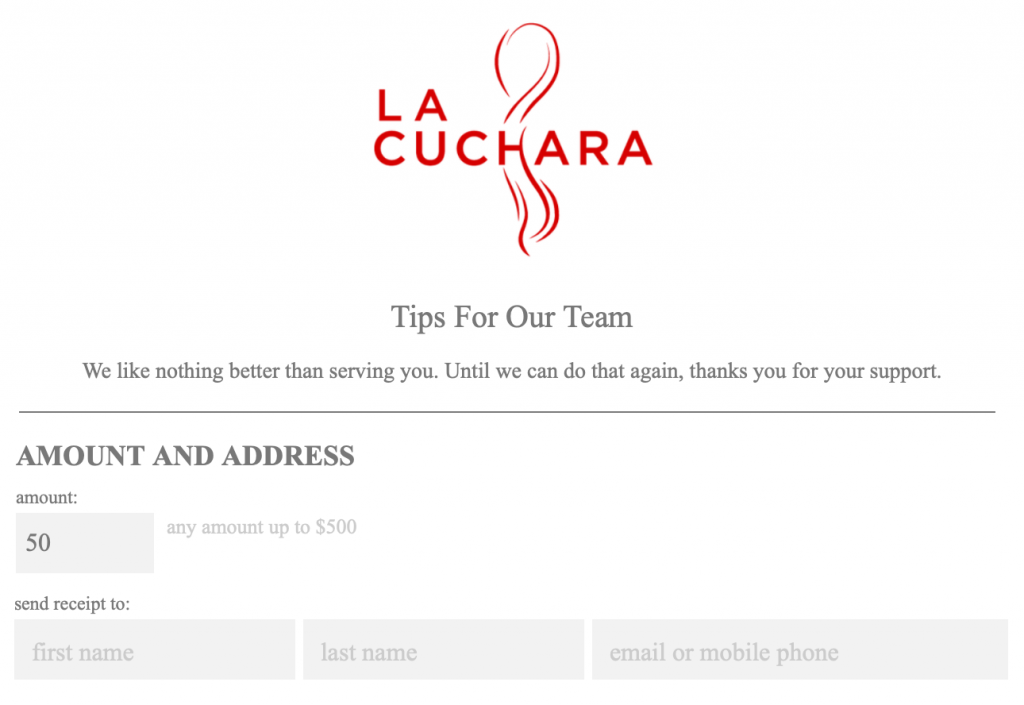 Let us know if you need help with your restaurant's promotions.
FREE Online To-Go Ordering
GiftRocker is offering a very simple to-go ordering service free of charge during the pandemic (for at least 90 days). If you are considering a to-go service or currently accepting orders over the phone, this will save time and improve your ability to safely accept payments.
Check out examples at:
Let us know if you would like to hear more.